Micro Pop Week 2018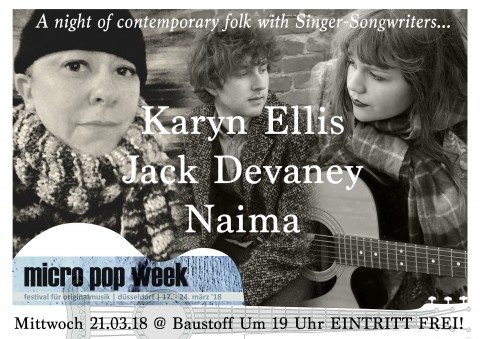 Night of Contemporary Folk with singer-songwriters: Karyn Ellis (CAN), Jack Devaney (UK) and Naima (DE)
Mi. 21.03 At Baustoff
Doors 19:00 Show 19:30
Eintritt frei, mit Hut (Kollecte)
Rather Str. 50
40476 Düsseldorf
Tel: 49 171 5459295
https://www.facebook.com/baustoffkaffee
******************************************
Die kanadische Sängerin Karyn Ellis ist eine großartige Songwriterin. Mit unglaublicher Spielfreude verbindet sie Elemente aus Folk, Country, Pop und Jazz zu wunderschönen Songs und Geschichten, die den Zuhörer einfangen und nicht mehr loslassen. Die Presse in ihrer Heimatstadt Toronto nennt sie "eine Offenbarung". Die kanadische Tageszeitung The Globe and Mail sagt Karyn ist eine "Sängerin, die man sehen muss".
Jack Devaney ist ein Singer-Songwriter aus Brighton (UK), wohnt aber seit mehreren Jahren in Deutschland. Einige seiner Lieder drehen sich um das Gefühl, in einem fremden Land zu wohnen, manche handeln von Liebe, manche von gar nichts. Zu verschenken hat er Optimismus und Folk Balladen. Zuletzt hat er eine neue EP und eine Biographie in der dritten Person geschrieben.
Naima – das ist verträumte Liedermacher-Live-Musik zwischen Indie und Folk. Mit einer klaren, warmen Stimme singt die gebürtige Aachenerin feinsinnige Texte und begleitet sich dabei auf der Gitarre – Zu hören gibt's einen akustischen Vorgeschmack auf die dritte Platte.
Jack Devaney
http://facebook.com/jackdevaneymusic/
https://www.youtube.com/jackdevaney
https://soundcloud.com/jack-devaney/
Naima
http://naima-music.com/
http://facebook.com/naima.official/
https://www.youtube.com/user/naimaCA/
https://soundcloud.com/naima-music/
https://www.instagram.com/naima.music/
*******************************************
Zur Micro-Pop-Week: Die MicroPopWeek steht für DIY-Kultur und selbstbestimmtes kulturelles Schaffen. Neben zahlreichen Konzerten zeigen Workshops, Ausstellungen, Lesungen und Filme die Vielfalt einer Musikkultur jenseits aller Wertschöpfungsketten.
Während sich die Musik"industrie" in Zusammenarbeit mit globalen Streamingdiensten langsam selbst abschafft, geht anderswo das Leben einfach weiter. Während manche das Fehlen von echten Musikliebhabern innerhalb "der Branche" betrauern, sind sie anderswo immer noch zahlreich zu finden.
Bei hunderten von Klein- und Kleinstlabels zum Beispiel, die intensiver denn je unabhängig und engagiert Musik sämtlicher Genres auf Schallplatten, Kassetten, CDs und als Download veröffentlichen und selbst vertreiben. Oft stecken nur ein oder zwei Köpfe dahinter, aber die mit ganzem Herzen. Oft sind es nur ein paar Veröffentlichungen pro Jahr, aber die sind handverlesen und mit Leidenschaft produziert. Oft ist es privates Geld, das diese Projekte finanziert, aber es ist gut investiert. Denn es ermöglicht künstlerische Freiheit und wirtschaftliche Unabhängigkeit, Liebe zum Detail und persönlichen Austausch, Inspiration und Innovation.
Zusammen mit lokalen Veranstaltern, unabhängigen Musikjournalisten und Bloggern und natürlich unzähligen Künstlern sind diese Labels und ihre Veröffentlichungen die kreativen Brandnester der Musikszene. In ihnen entsteht heute das, was irgendwelche Leute eines Tages evtl. für cool erklären werden. Oder eben nicht. Ist aber auch nicht weiter wichtig.
Mehr Informationen und das komplette Programm: https://micropopweek.org
https://www.facebook.com/groups/1833822776900211/
Related show