Archive of 2018 March: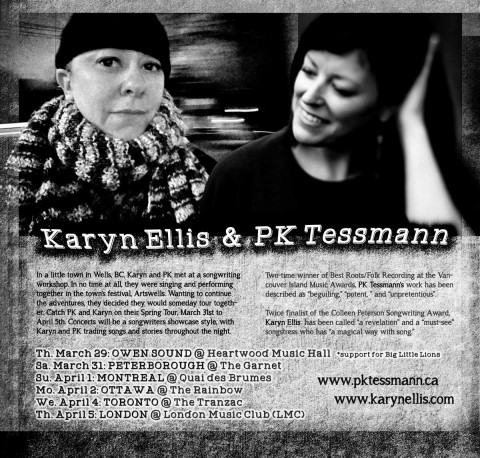 See tour page for show details!
Till the start of my six-date Spring Tour with PK Tessmann! Hurray!
Owen Sound (Mar 29), Peterborough (Mar 31), Montreal (Apr 1), Ottawa (Apr 2), Toronto (Apr 4), London (Apr 5)…
Followed by my solo show, living room concert in Barrie on Friday April 6th.
See my tour page for details.
VERY much looking forward to this six-date spring tour, starting a week Thursday with BC's fabulous PK Tessmann. I'm flying back from Germany this Friday, so it is a bit of a homecoming tour for me. Hope to see you soon! xo K
Here's our itinerary; check out my tour page for details! OWEN SOUND (Mar 29), PETERBOROUGH (Mar 31), MONTREAL (Apr 1), OTTAWA (Apr 2), TORONTO (Apr 4) and LONDON (Apr 5).
Also, for the folks on Facebook, you can find more details & RSVP the Facebook event page (There you'll find links to individual shows too!)
Today is the start of Micropop Week in Düsseldorf Germany! A week full of concerts celebrating indie DIY music makers, music presenters and music businesses.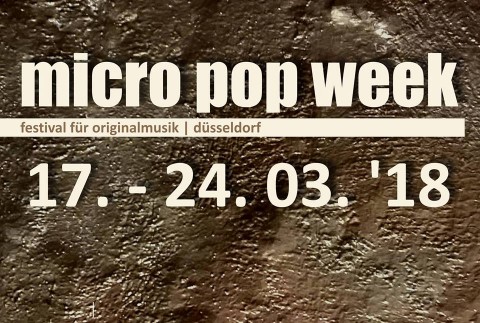 I am playing three times this week, (twice today)!
First, this afternoon – Saturday March 17 – @ Rainking-Recordstore
(Düsselthaler Straße / Ecke Rochusstraße, 40479)
An afternoon program celebrating singer-songwriters – I'm playing a short set at 15:00.
https://www.facebook.com/events/2108075232756487/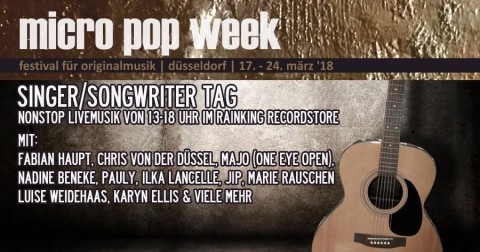 +++++++++++++++++++++++++++
Then TONIGHT – Saturday March 17 – I head over to Hedgehog Studios (Talstraße 22)
to play a show with Jack Devaney.
Doors 20:00 / show 20:30.
Sascha Düx is going to join me for this set! Yay!
https://www.facebook.com/events/929324857235604/
+++++++++++++++++++++++++++
If today doesn't work for you, or maybe it does but you're itching for more…
Wednesday March 21st: a night of song @ Baustoff (Rather Str 50.)
I will be joined again by Jack Devaney, this time Naima will be performing too!
https://www.facebook.com/events/168392647273638/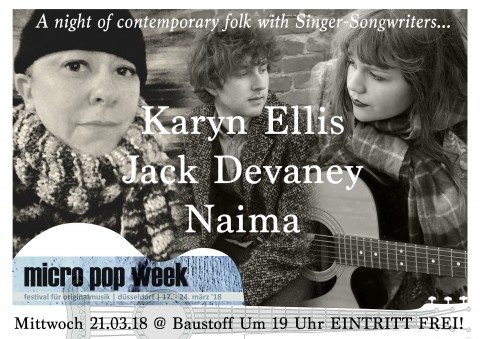 +++++++++++++++++++++++++++
And if THAT'S not enough for you, check out the full Micropop schedule! Tons of great artists in chic venues, all happening this week…..
https://www.facebook.com/events/335356340309595/
(Apologies to the non-Facebook users about the excessive use of links to Facebook events in the post! Check my tour dates page for more details, too!)
In a little town in Wells, BC, Karyn and PK met at a songwriting workshop. In no time at all, they were singing and performing together in the town's festival, Artswells. Wanting to continue the adventures, they decided they would someday tour together.
Catch PK and Karyn on their Spring Tour, March 31st to April 5th. Concerts will be a songwriters showcase style, with Karyn and PK trading songs and stories throughout the night.
PK Tessmann is a fixture in the Vancouver Island indie-folk community. With over 20 years of songwriting and performance behind her, Tessmann is celebrating the release of her third album Dear City (Fall 2016). Two-time winner of Best Roots/Folk Recording at the Vancouver Island Music Awards, PK's work has been described as "beguiling," "potent, " and "unpretentious".
+++++++++++++++++++++++++++++++++++++
Th 29.03.18 – Owen Sound, ON
Heartwood Music Hall
Opening For Big Little Lions
939 2nd Ave E, Owen Sound, Ontario, N4K 2H5
https://www.facebook.com/events/860070934173801/
Sa 31.03.18 – Peterborough, ON
The Garnet
231 Hunter St. W. Peterborough, Ontario, K9H 2L1
21:00 / $10, at door
https://www.facebook.com/events/149506529070146/
Su 01.04.18 – Montreal, QC
Quai de Brumes
4481 St Denis St, Montreal, Quebec H2J 2L2
$10-15, at door
https://www.facebook.com/events/289365478259505/
Mo 02.04.18 – Ottawa, ON
The Rainbow
76 Murray St. Ottawa, Ontario,
20:30 / $10, at door
https://www.facebook.com/events/168916117062935/
https://www.facebook.com/events/399171223840703/
We 04.04.18 – Toronto, ON
Tranzac Club – Southern Cross Room
292 Brunswick Ave, Toronto, ON M5S 2M7
22:00 / Free entry (Hat)
https://www.facebook.com/events/1939691256347921/
Th 05.04.18 – London, ON
London Music Club
470 Colborne St. London Ontario n6b 2t3
20:00 / $12 adv | $15 door
https://www.facebook.com/events/409310869508019/
Karyn is back at this year's Micro Pop Festival in Düsseldorf, Germany on Wednesday March 21st.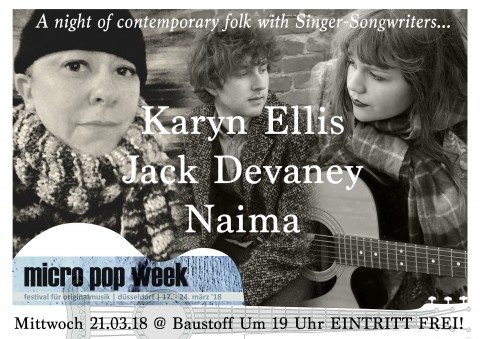 It's going to be a fabulous Night of Contemporary Folk with singer-songwriters: Karyn Ellis (CAN), Jack Devaney (UK) and Naima (DE)
Mi. 21.03 At Baustoff
Doors 19:00 Show 19:30
Visit Micro Pop's website for information about the festival as well as get the full itinerary.