My name is Karyn Ellis, and I'm making a new record! I invite YOU to jump in and become a backer of MORE THAN A HERO.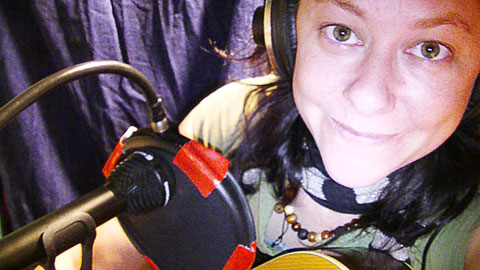 By way of introduction, here is a video I made with my friend Julie Fowler featuring me being a daredevil! What I mean is… I'm kind of scared of water, but look what I'd do to get this album made!!
Or if you prefer a more seasonally appropriate version for winter: (But… nope. Sorry, there is no polar dip in this one! You do, however, get to see the porch where I do most of my writing these days.)
---
---
******UPDATE: Aoril 9th, 2013******
---
Although it's been quiet here on the news front, there has definitely been flurry of activity going on behind the scenes… you may remember that I commissioned Edmonton artist, Justina Smith, to paint original pieces for the album artwork. The paintings arrived a few days ago, and today I'm picking them up from the digital scanning house. But here is a sneak preview of the new album cover!!!!!!!!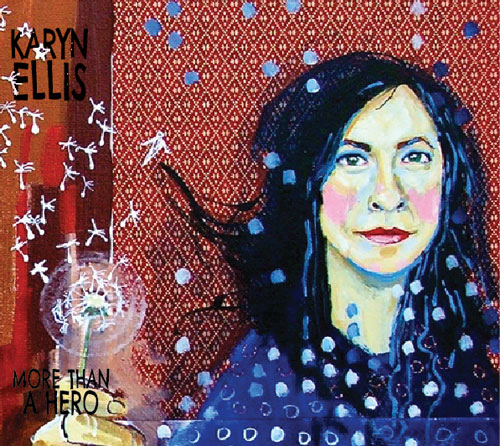 **************************
This week we are finishing up liner notes and all that sort of stuff so that the album can head off to the manufacturer early next week.
So if you have been meaning to back the album, but haven't quite had a moment to do it… THIS IS THE MOMENT! Join the over 120 backers whose awesomeness is immortalized in the liner notes and on the WALL OF AWESOME and get an early release copy of the album later this spring, months before the album goes public in October.
This album sounds seriously amazing! I am so proud of all the wonderful musicians and artists who have made this record happen. You're going to want this one. :)
---
******UPDATE: February 21st, 2013******
---
WE DID IT!!!! Today there was a hand-delivered cheque in my mailbox for one-hundred and seventy-one dollars… bringing us to $10,001!!!
WOW!!! You are fabulous!!!
But hey, we don't need to stop there! Everything over our goal is going right back into the project for things like publicity and making a most awesome music video so that when the album comes out, people will hear about it.
By the way, the official release "street date" for the album (and up on iTunes) is going to be this fall. But everyone who pre-orders/backs the album now will get a copy of the album as soon as it's back from the manufacturer later this spring. Other than running into me personally at a show or something, that's the only way you'll be able to get the album before it comes out to the public. And you'll still get your name in the liner notes and all the other delicious thank-yous for becoming a backer! xoxox
---
******UPDATE: February 20th, 2013******
---
Wow. What an exciting day in the crowdfunding front! Just received a cheque in the mail for a new Letterbox backer, and someone else just bumped up their contribution to become a Classic (song) sponsor. That brings us to within $170 of our goal!!!! One-hundred and seventy!!!
---
******UPDATE: February 13th, 2013******
Only 6 more C-bills away!
---
******UPDATE: February 11th, 2013******
Make that $745!! We are excitingly close!
---
---
******UPDATE: February 9th, 2013******
Three new backers yesterday, and we are now ONLY $805 AWAY from our goal!!! Who wants to bring this baby home?
---
******UPDATE: February 8th, 2013******
Mixes are done! Song order is picked! Album is at the mastering house!
---
******UPDATE: January 31st, 2013******
Sent the first finished mix to the mastering person today. Weeeeee!!!
Next week is our last in-studio days, so if you want in at the Swan level or higher and see your own name in hand-doodled print in a photo taken at the studio… you need to back the album soooooon! (Pre-orders with or without lyrics books continues until the album goes to the manufacturer at the end of February.)
---
******UPDATE: December 27th, 2012******
You folks are amazing! Less than $1700 from our goal, and we've almost reached ONE-HUNDRED BACKERS!!!
---
******UPDATE: December 24th, 2012******
Looking for a cool, last minute stocking stuffer?
Order via Paypal TODAY (Decemember 24th), and I will doodle a personalized homemade certificate (you tell me who to dedicate it to), scan it and send it to you this evening!! You can print it off and pop it in your stockings! The actual CD will be delivered later this spring ~ a double present. :)
(Check out the different levels over on the right-hand side. Suggested: $10 for digital copy of the album, $25 for a signed CD, $50 for a signed CD & hand-lettered lyrics book! Gifts of $25 and more, your friend's name will appear in the liner notes too!!)
Use this special button:
Remember to tell me who it is TO and who it is FROM! And provide an email where I can send you a digital file of the personalized gift certificate for you to print out & put in your stocking!!
---
******UPDATE: December 14th, 2012******
Hallo! Hallo! Well, I've been on tour in Europe these past few weeks so pretty quiet on the crowdfunding campaign front. But rest assured, the album is still well under way. And because I'm on the road, I haven't finished liner notes yet or anything silly like that ~ lots of time left to jump in and become a backer of the new album.
Oh, and I'll be pulling out my magic markers as soon as I'm back in Toronto. Plenty of time to see your name on a hand-doodled poster ~ a thank you from me in the studio, back the album at THE SWAN level or higher.
Meanwhile… more thanks to recent backers, who have come from Germany, UK, Canada, the USA… !
---
******UPDATE: November 2nd, 2012******
I have created a new Facebook event page for Jump In – Be a Backer. Now it's even easier to share word with your friends and family about the new album!!
http://www.facebook.com/events/544531465563840/
(The JOIN button is in the upper right hand corner of the page.)
+++++++++++++++++++++++++++
******UPDATE: October 28th, 2012******
Woo hoo! We are well over two-thirds of the way to our goal!!! And I've decided that if we make our goal of $10,000 by the end of this campaign, I will get the B-side version of "You'll Do Anything" mixed, and I'll send it to everyone who backs to the album through this campaign as an extra special thank you. I'm calling it the B-side because we recorded two different versions of the song with two different rhythmic feels while we were in the studio last month. Only one gets to appear on the final album, so if we make our campaign goal you'll get the second version as an mp3 as well!
Meanwhile check out photos on my blog from recent adventures in the studio, and see where your $$ is going! Weeeee!
www.karynellis.wordpress.com/2012/10/28/the-rooster-studio-sessions/
+++++++++++++++++++++++++++
******UPDATE: October 24th, 2012******
Just added: the website WALL OF AWESOME! Featuring everyone who has backed the album to date. Give these awesome folks a hand. Oh yah! Hurray!

---
ABOUT THE PROJECT:
This summer & fall I have been / will be traveling from my home in the foothills of the Cariboo Mountain in British Columbia, Canada, to Toronto Ontario to work with Don Kerr at "The Rooster": his studio located in the west end of the city.
Don & I co-produced my last album, Even Though The Sky Was Falling, and it was such a beautifully creative process that I'm glad to make the trip out east to work with him again. Don works/has worked with awesome folks like Ron Sexsmith, Dave Bidini (Bidiniband) and the Rheostatics. Don's Website: www.donkerr.ca There's a great photo of the studio on the homepage.
The new ten-song (plus bonus track!) album, MORE THAN A HERO, captures the band magic of Brian Kobayakawa on bass, Gary Craig on drums and percussion and "Champagne James" Robertson on electric guitars (as well as a little banjitar.) All these guys appeared on my last album, and I'm so happy to be working with them again in this new configuration.
I'll be joined by the sounds of other special guests too: the occasional piano (Jeff Heisholt), cello and handclaps (Don Kerr), flugel horn (Bryden Baird), accordian (Ali Berkok) and a few vocal harmonies (Kerri Ough, Dave Bidini, Don Kerr, Sue Newberry, David Newland, David Oxley, Vincent de Tourdonnet and Evalyn Parry) here and there. Oh, and even an 11-person choir!
We've been keeping it true to the energy of the bedtracks (that's when the bass, drums & guitars play together "in the studio – getting the "live feel" by being recorded at the same time) adding some extra fun sounds where the songs calls for them.
We spent about 26 days in the studio doing the tracking, another 8 or 9 days mixing, and then there is mastering… artwork… manufacturing… marketing…
So you see, that's where you come in!
Great news is that both FACTOR and The Canada Council are pitching in towards the making of the record! (FACTOR is a private non-profit organization that funds Canadian independent artists making records. Canada Council is our national Arts Council.)
Now I… we… need to come up with the rest of the money I need to get the record released.
I figure together we can reasonably raise $10,000. That would comfortably cover the costs of finishing the record, hiring an artist to paint the cover art, printing the first run of CDs and sending them out to press (yep, I'm still making those old things! Tangible goodies, much better for sending out to radio stations and bringing with me to shows.) If we reach the goal before the campaign deadline, wowser! Anything above and beyond the initial amount goes towards making a better launch for the record. I am my own record label — and I imagine I will once again be releasing this little cutie myself. Beyond the album itself there are costs like making posters, flyers, videos and my flights to/from Toronto. Stuff to get the record out into the world. So $10,000 will be awesome, but I'm not shy about going bigger!
If you have any questions, like where we shot the intro video or if you need clarification about any of the "thank-you" items, feel free to email me at backers@karynellis.com. I will answer you in as timely a fashion as I can!
Please share my intro video and the link to this page: http://www.karynellis.com/jump-in-be-a-backer/ with your friends and family. Share the news far and wide along your networks! This project is going to succeed because you make it happen. Weeeeee!
Best regards,
And thank you very much, in advance!
Karyn
---

HEY KARYN, HOW DO I GET MY CONTRIBUTION TO YOU?
DOWNLOAD the Backers Form
Print out, fill in, then mail along with your cheque/MO to:
Karyn Ellis
c/o 2 Montrose Avenue
Toronto, ON, Canada
M6J 2T7
*Best place to reach me while I'm in the studio!
(Feel free to email me at backers@karynellis.com after you pop it in the mail to let me know it's on its way!)
You can also send money online using electronic email transfer. See your bank for how-to details.
To send money (up to the $240 level) via Paypal/credit card, click on the image that corresponds with the amount you wish to contribute. For $500 and up, please send cheque, money order or use electronic email transfer.
(For amounts $25 and up, cheque or email transfer is probably better. Your contribution won't be whittled away by paypal fees.)

NOTE ABOUT CURRENCY:
I accept cheques in Canadian Dollars, US Dollars and Euros. I'm not going to quibble over a few pennies here and there, so use the currency exchange rate to guestimate an equivalent amount in Canadian Dollars and sent that. I'm pretty sure PAYPAL will do the exchange for you, if you go that route.
---
TO RECAP:
Any level of contribution:
A virtual high-five!
Your name on my Website Wall of Awesome!
$5 to $9:
A backstage pass to special behind-the-scenes and a digital copy of the title track as soon as it's ready.
$10 to $24:
A digital copy of the album as soon as it's ready, and long before the album is released to the public.
$25 to $49:
A signed copy of the CD as soon as it's back from the manufacturing plant PLUS your name in the liner notes.
$50 to $79:
A special zine I'm making especially for backers of this project. It features all my lyrics to date handwritten and decorated with doodles and pictures.
$80 to $119:
A second CD to give to a friend or put on your mantle. And a photo of me in the studio holding up a sign with your name on it that says something like "I wouldn't be making this record now without [your name]". (I'll send you a digital copy of the photo and post it on the website Wall of Awesome too.)
$120 to $239::
A handwritten postcard penned by me during a studio lunch break to let you know how things are going in the session.
$240 to $499:
I'll write you at least six handwritten postcards from the road sometime during the next year or two telling you about my touring adventures.
$500 to $999:
This is where it started. Ten folks who pitched in five-hundred bucks each so that I could finish making Hearts Falls (the eleventh song a dedicated thank you to Rob at the theatre.) We did it again on Even Though The Sky Was Falling, and here is your chance on the new album too. Sponsor a song! Forever more you can point to your song and say "I helped make that!". You become a "song sponsor". Your name goes in a special section in the liner notes pointing out that you sponsored a particular song (requests for specific songs will be accommodated whenever possible.)
$1000 and more:
Me in your living room playing a concert!
*Some restrictions may apply related to distance and scheduling. You may need to cover my transportation / accommodation costs separately. backers@karynellis.com We'll try to work it out so that your concert coincides with existing tour plans. Alternately, we can set up a private concert for you and your friends online via Skype, or another online platform. Either way, I will bring or send up to 25 copies of the CD for you to gift to your guests/friends.
$5000 and more:
A cigar. A suit. An Executive Producer credit.
$10,000 (and more?):
Champagne.
THE FINE PRINT:
I am not a registered charity, so I legally can't call your contributions "donations". And they are not exactly "exchanges for services" either. Hmm. So let's call them acts of patronage. Or gifts. Or financial nods of encouragement. Whatever you call them, I want you to know it makes a huge difference to me as an artist to enter the studio knowing there are a bunch of people as excited as me about getting the record finished. So thanks for your support! I'm glad you're part of this project.
---
I'd love to hear your thoughts on the project! Leave your comments below: