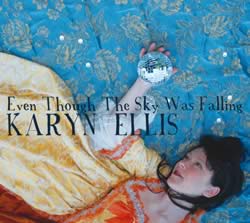 Even Though The Sky Was Falling (2009)
"a magical way with song... Leonard Cohen has no copyright on the word hallelujah." — Brad Wheeler, The Globe and Mail
A celebration of the beauty and redemption to be found in chaotic times — a breakthrough album that pairs her quirky songwriting and sensual, naïve vocals with strings, horns, choirs and glockenspiels, all woven together with help from co-producer Don Kerr, best-known for his work with Ron Sexsmith.
More about this album...
Hearts Fall (2005)
"The songs creep up on you quietly, disguised as lullabies - then flirt with blue grass, walk the indie-folk line with tight rope precision before they softly explode into rich and emotional songs that are nothing short of enchanting." — Upfront Magazine
The majority of Hearts Fall was recorded live-off-the-floor as a trio (vocals & guitars, piano/violin and double bass) in one snowy afternoon session at the Staircase Theatre in Hamilton Ontario, early 2005.
More about this album...
Bird (2003)
"A beautifully organic piece of work...delivers dig-your-heels-in rootsy pop peppered with delightfully quirky lyrics." — RisMixLive.com, CA
Recordings on Karyn's six - song EP, Bird (2003), were first intended as demo tracks for a full-length CD. However, repeated audience requests at live shows for recordings encouraged her to release these early tracks as songs-in-progress.
More about this album...